"Talk Real Estate" on WATD 95.9 FM – Episode 121119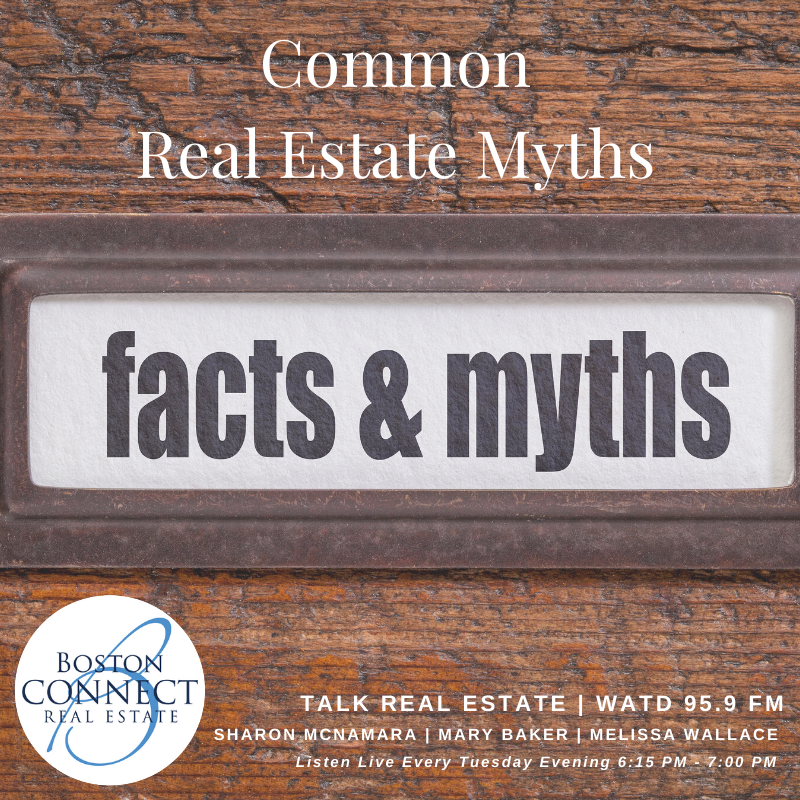 Real Estate Myths
Sellers should price their homes higher than fair market value to leave room for negotiations. So false, the quickest way to sell your home for the most amount of money is to price according to the properties condition and location right off the bat. Doing this will drive the most amount of people through the door right from the beginning. Buyers are educated and know when the price is unrealistic.
Listing below market value guarantees multiple offers. There are NO guarantees in real estate. By listing slightly below market value there is a higher chance of exposure to a greater buyer pool, but if the condition, location and price still do not align then buyers will still not make an offer. Keeping in my mind some buyers see a "frenzied" open house and walk away because they don't want to participate in a bidding war.
Buyers can get a better deal if they don't use a real estate agent. The thought process is for buyers to go directly to the seller, so that they can negotiate a lower price since the sellers will not be paying any agents. Realistically, a buyers agent could negotiate a lower price for the home based off of market comparisons. Just because you forgo an agent representation does not necessarily mean the seller will be saving loads of money, but it does leave you at risk!
Sellers can save money selling their home themselves. – The National Association of Realtors has done the research and FSBO sellers make just 66% of what they could have if owners had sold the same home with a realtor. Interestingly enough, when we attended the NAR Conference in 2019 we learned that this past year has had one of the lowest rates of FSBO (For Sale By Owners) yet.
The market will only go up. We have seen that this is completely untrue. The market fluctuates based on the time of year, the interest rates, buyer confidence, economic health and much more.
You should renovate your kitchen and bathroom before you sell. We are big proponents for not spending money unnecessarily! You are better off pricing the property according to the condition that it is in to sell quickly than to try and increase the price with renovations.
You'll earn back what you spend on renovations. Unless you plan to stay in your home for several years and enjoy the renovations, it is unlikely that you will recoup the dollar for dollar amount spent on renovations. We spoke with an appraiser and he estimated that when selling in the short term plan that for every dollar you spend you would get .50 cents back.
All the properties listed in the multiple listing service show up online. Status updates can cause delays in the feeds. Same is to be said for 3rd party sites, they don't always update in real time or recognize our status changes in MLS which leads to confusion about whether or not a property is truly available to see or securely under agreement.
Open houses sell properties. We don't believe this is a myth. Open houses can most definitely sell homes. It is imperative to make your home available to buyers of all demographics – those that don't have availability during the week or have just started their home search tend to view properties during Open Houses.
A homes passes or fails inspection – Inspections do not get a Passing or Failing grade. Inspections are about enlightiening the buyer about potential defects the property has and then the buyer deciding if that is acceptable or not to them. What one buyer may find tolerable another may not.
Inspectors have to find something, don't they? Yes, it is there job to go through the houses with a fine tooth comb and find every defect they can, however we have been to many houses that have very limited items that come up for repair. Depends on the quality and maintenance in the house.
Weekends bring out the most serious buyers – Vehemently agree with this myth. A serious buyer will make it a point to see the property they are interested in as soon as possible especially given our current low inventory market.
Zillow says, therefore it is – AVMs and 3rd party sights are missing a few crucial steps in order to value homes effectively. They can't see the updates you have done since living there, or lack there of. They don't have local knowledge of every neighborhood and it's pros/cons. They system derive numbers like a census vs. looking at the home as an individual property. The most effective way to value your home is have your trusted Real Estate Professional complete a Market Analysis. Sometimes the AVMs can be close, but other times they can be WAYYY OFF.
When making an offer on a home, you need to start with a low offer – False. It is crucial to take into consideration your agents advice and market trends. For example, what is the sellers motivation, what's important to them, how much interest has there been from other buyers in the home. There are many factors that go into valuing a property to make an offer on it and rarely are properties so outlandishly priced that a significantly lower than asking offer would be acceptable.
The longer a home is on the market, the more negotiable the deal – There are many reasons that a property may have a high DOM (Days on Market). New Construction properties tend to be listed for several months, even years before selling because they get listed very early into the construction or development stage. Time of year and uniqueness of the property can also contribute to an increased days on market. None of these are indicators that something is necessarily "wrong" with the property.
Multiple price reductions mean the seller is desperate to sell – There are many reasons to lower the price. Sometimes "testing the market' doesn't pay off and bringing the price down gives indication that the seller is aligning themselves with a more accurate outlook on the current market value.
Multiple offers give the sellers an advantage – Buyers can be exhausted by the prospect of entering into a multiple bid situation and may choose to not pursue the home at all. There are also times that offers are incredibly similar making it difficult for the seller to choose and just because there are multiple offers on a property is doesn't mean they are all over asking.
Agents Should Tell You the Neighborhood's Make-up – False. Fair Housing laws prevent real estate agents from talking about the general make-up of a particular area. We are dissuaded from discussing, school stats, crime rates, ethnic and familial statuses. There are many good websites online as well as your local police department that will be more than happy to provide you with this information
The agent who shows you homes or lists your home represents your interests. – In MA you should be provided an Agency Disclosure upon your first physical meeting with any agent, which will indicate the agents representations to you. The could be acting as a Seller's Agent, meaning they are showing you the home on behalf of their sellers interest and it is their responsibility to report back to the seller any/everything you inform them that would be pretinent to the sale. A Buyer's Agent would have obligation to the buyer to act on behalf of their best interest and a Facilitator essentially acts as a third party or middle-man with no real responsibility to either party. There is also Dual Agency, which is a bit more intricate, but means the Seller's Agent can also represent you as a Buyer's Agent. The Agency Disclosure form is the clearest way to know the responsibilities an agent has to you.
All agents are the same – There are so many differences between agents! There are Real Estate Agents, which could be anyone who has passed the real estate course and test. Then there are Realtors who have also passed the sales course and test, but taken the affiliation process one stepped further by joining boards both locally and nationally that hold them to a higher code of ethics for standard practices. Lastly, there are Brokers, who have taken additional licensure courses and passed intense testing. Having their Brokers license also allows them to open their own company, if desired. Besides, the licensing process there are also personality, demeanor, education, training and experience differences.
We had so much fun this week, myth bustin!! If you have any questions about Real Estate or want help busting your own myths, call our team at 781-826-8000.
All Our Best,
McNamara Broker Team
Sharon, Mary & Melissa