"Talk Real Estate" on WATD 95.9 FM – Episode 120319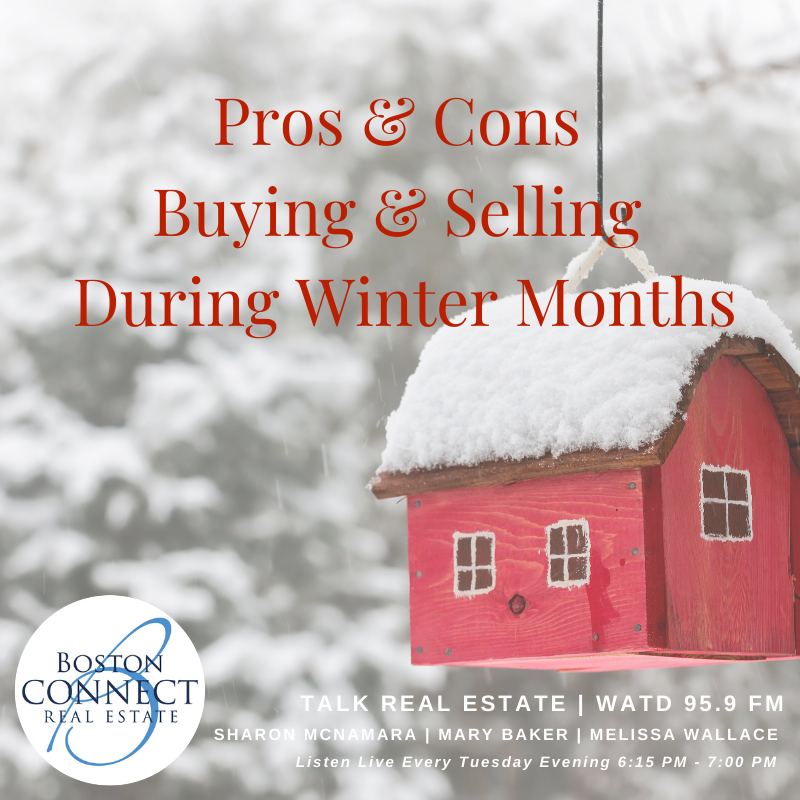 Pros & Cons of Buying & Selling During the Winter Months
Being inspired by our first real winter storm of 2019, we thought it would only be appropriate to discuss some of the concerns and benefits surrounding real estate during our winter months!
Selling
Pros
There is an increase in the amount of serious buyers looking at your home. People will always have to move no matter the time of year because of job changes, relocations, finances and extended families to name a few. In the winter months, the amount of buyers that are "just looking" or beginning their search is reduced, so you can focus more fully on the buyers who are ready to move, NOW.
There is less inventory on the market in the winter months for sellers to compete with. This means that the serious buyers who need to move have less to choose from and your chances of being chosen increase. Being one of less inventory is better than being lost in an inundation of inventory.
With Boston being one of the HUBs for the Medical, Financial and Technical fields larger corporate companies tend to make changes to their staffing at the beginning of the fiscal years, which means Relocation buyers are being sent here from different states to find homes and begin their careers. If your home is not on the market during those winter months, they won't see you.
Seller's experience less interruptions to their everyday lives during the winter months. In the thick of the spring and summer months the influx of buyers can cause sellers to feel as if they have been "kicked out" of their homes while multiple buyers, who may not be very serious, are looking at their homes all day long. During the winter, buyers are more concentrated on only looking at what they are serious about therefore sellers have more time in their homes and less interruptions.
Cons
Less buyers are in the pool during the winter. Just as a seller's natural insinct is to wait till the Spring to sell, Buyers who have the time to wait, will naturally wait until the holidays are over, they have more free time and the weather is nicer to look at homes. Less buyers means less bidding wars and sellers don't have as many options of buyers for their homes.
There is an increase of Days on Market (DOM) during the winter months. The smaller buyer pool and natural down time for holidays are both contributing factors, but as Agents DOM is very easily explained away to Clients and not necessarily a cause for concern that "something is wrong" with the property.
The upkeep of the house is a little more extensive with snow on the ground. Sellers have to make sure the driveways are plowed, there is clear and safe pathways for buyers to get into the house. Sellers may be concerned with tracking of snow, rain, mud and salt in their homes, but most buyers are respectfully and Agents will set the expectation that shoes should be removed or booties worn around the home to keep it in pristine condition!
It is a pain to get out of the house for a Showing or Open House during the inclement weather when you just want to curl up by the fire. Keep in mind if that buyer is willing to trek out in that same weather they must be SERIOUS!
Moving in the winter sounds daunting! Be prepared by planning your closing or movers to come several days before you have to be out. That what you have a good cushion for any hiccups that may occur with the weather.
BUYING
Pros
Buyers dread a bidding war scenario, it can be exhausting! Not everyone is willing to brave the hunt during the winter months. If you are able to stick it out there will be less buyers to compete with for the houses that you want.
What better time to inspect a house than when it has to hold up under the harshest conditions. Is the roof leaking? Evidence of ice dams? Is water flowing back into the basement? Is the chimney leaking? Or is there bowing in the roof because of lack of support? The list goes on. Inspectors can see a lot more than you think during those rough conditions, so don't be intimated. Embrace it.
Scheduling with all of your professionals may be a little easier during the winter. They are seeing the same slower paced market that you are, so your agent, lender and attorney are all more available to you. Although most professionals running teams are able to assist you no matter what the season, it might be nice to have more individual attention.
Quicker timelines to close – your inspectors can get in quicker, appraisers are less booked up and closings can happen faster.
Cons
There are less houses to choose from, so practice patience. Do not settle for a home that you would not choose otherwise – sometimes you have to kiss a lot of frogs to find your prince (love during the saying on to the real estate market). Better to be in the game then not to try it at all!
Inclement weather can make scheduling showings difficult with late cancellations or rescheduling required by either buyer or seller. It also gets darker earlier during daylight savings time, so weekday showings after work are less effective.
Inability to test all the systems in the house – Central Air, Pool, Seeing the exterior of the foundation and Age of the roof can all be difficult to thoroughly examine. Ask the right questions of the sellers, inspectors and agents – when we were they last serviced, age of all systems, maintenance providers, etc. Also, attorneys are sometimes able to draft protective language within the Offer to Purchase and Purchase and Sale Agreement as an added layer of protection for the buyer in case any of these systems are not fully functional in the Spring.
And of course the big one effecting both Buyers and Sellers – Moving in the winter! Just as a seller should, prepare ahead of time by building in a buffer time prior to closing for the movers to come and gather your belongings. You may pay a little extra for overnight storage, but it will be well worth it to save yourself the headache if we get a snowstorm on the day of moving or the closing is delayed. Thankfully, Movers tend not to be in as high demand during the winter so can be a little more flexible with moving dates if timelines suddenly change.
Moral of the story is there are pros and cons to selling and buying in any market. Stay committed to the process, be patient and have faith!
If you'd would like a one-on-one consultation regarding the value of your home or assistant with purchasing a new home, contact us for a complimentary evaluation.
McNamara Broker Team
Sharon, Mary and Melissa